Forget everything you think you know about writing. Writing for the web is unlike any other writing you have ever done. It's not like writing for a brochure or poster; it's not like writing a report or a news article; and it's not a place to showcase how cute or clever you are, or how smart you are.
Writing for the web demands brevity, simplicity, and accessibility. It's a unique skill that requires training, even for a communications expert. Writing for the web is unique because people read differently online than they do when they read print materials. Reading long paragraphs on a screen hurts the eyes and is time consuming. Web users:
Scan pages
Read in quick, short bursts
Pick out key words and phrases
Are action oriented
Search for information that will lead them towards a goal
Effective web writing involves having the content the primary audience is looking for and presenting it in a way that makes it easy to find. Good web content should either tell the user something they need or want to know or help them get something done. Web content should also drive actions, give your users something they should do – click a link, call a phone number, make an appointment, fill out a form, etc.
---
"'Content is King' – you might have a pretty web site which will catch someone's eye, but if the content is no good, you can be willing to bet that they aren't going to stick around." — Selene M. Bowlby
After completing your content audit based on the needs and requirements of you and your users, you will write the content for your website knowing what you should keep, remove, add, revise or merge. It is important to know that your content should be written before you determine the look and feel of your website. Content drives what the layout and design should be because you don't want to be forced to try and fit your content into a pre-determined layout and design. If you realize something is hard to describe in words and works better as an image or infographic, you don't want to be stuck in a text-based layout; or if you find out you need something to be written out, you don't want to be stuck in a graphic-based layout.
Writing your content is probably the step that will take the longest because you will probably need to write all of the content and then re-examine that content to determine what the best way to give that content to your users. Throughout the process, always refer to the content evaluation questions and the content creation process.
---
Here are some easy dos and don'ts for creating user-friendly web content:
DO:
Keep Content as Concise as Possible
Web users have very short attention spans and don't read articles thoroughly or in their entirety. They skim webpages to find the information they want. They search for keywords, skip around instead of reading from top to bottom, and have lowered attention spans.
Short paragraphs, short sentences, and easy words are the most readable. Digital content is not what you learned to write in English class. So don't try to win any writing awards. Cutting half the words on a webpage can increase usability by up to 58%. As a recent article from the Neilson Norman Group states, "Well-written, short text fragments presented out of supporting context can provide valuable information and nudge web users toward a desired action."
What you can do:
Don't USE:
the reason for
for the reason that
due to the fact that
owing to the fact that
in light of the fact that
considering the fact that
on the grounds that
this is why
in terms of
with regard to
Get to the point as quickly as possible - Start with the conclusion, follow with the details.
Cut out unnecessary information - Use half the word count of traditional writing
Do:
Find out how to:
• Post your resume
• Search our jobs database
• Sign up for Career Fairs
Don't:
Read about how we can help you prepare for the rigors of the job search, with tips for posting your resume on our website, searching our extensive database of job offerings, and registering for upcoming fall semester Career Fairs.
---
Do:
Apply here [with a link to application]
Don't:
By completing the online application available on this site you can enroll in the program.
Avoid long paragraphs and sentences - ideally no more than 20 words per sentence and five sentences per paragraph.
Use easy-to-understand, shorter, common words, and phrases. Be conversational.
Do USE:
Get
Before
Buy
Ask For
Next
End
Use
Know
Help
Don't USE:
Obtain
Prior To
Purchase
Request
Subsequent
Terminate
Utilize
Cognizant
Facilitate
Avoid jargon. Use your user's language, not yours.
Do:
Call it "financial aid" if that is what your users call it.
Don't:
Use "financial assistance" just because that is what your department calls it.
---
Do:
Oregon researchers study how patients with a minor heart condition are affected by high altitude.
Don't:
Oregon researchers study the effects of patent foramen ovale in a high-altitude Bolivian setting.
Use pronouns. The user is "you." The department is "we." This creates more approachable content.
Do:
Get advice you need to write effective web copy that gets your program noticed.
Don't:
Users should review our suggestions on writing for the web to optimize their organization's outreach efforts.
Avoid acronyms - your reader isn't necessarily familiar with the shorthand you use
Do:
Contact the Teaching and Learning Center.
Do:
If it snows, call the parking hotline before coming to campus.
Don't:
In the event that it snows, the parking hotline should be called prior to coming to campus.
Use Headings to Break Up Long Articles
"A wall of text is deadly for an interactive experience. Intimidating. Boring. Painful to read. Write for online, not print." — Jakob Nielsen
Internet readers inspect webpages in blocks and sections, going directly to items that seem to match what they're looking for. When they look at a webpage, they tend to see it as chunks of information rather than as a whole. One strategy is to break up long articles into sections so that users can easily skim down the page.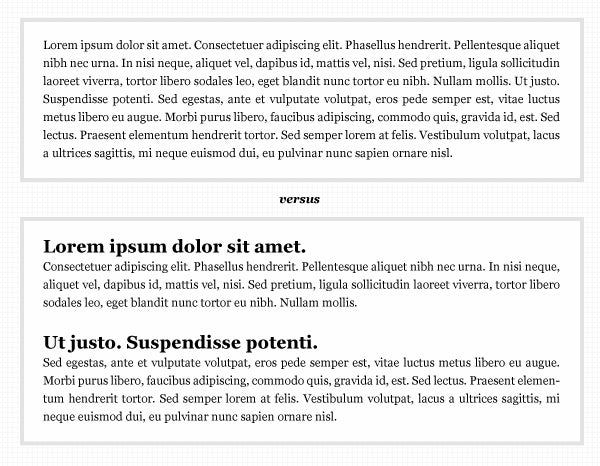 Do not just bold text for your section headings, use "header" tags (H2 for major headings, H3 for subheadings) instead. For screen reader users, header tags are vital in giving a sense of the main topics of the page and enabling easier navigation through your content, much like the table of contents in a book. Additionally, effective header tags help with search engines — making your site more accessible to everyone.
What you can do:
Write clear, direct headlines.
Do:
UO's College of Education ranks in the top five nationally
Don't:
Plato, Aristotle, and Being No. 1
Before writing a post, consider organizing your thoughts in logical chunks by first outlining what you'll write.
Use simple and concise headings. Ideally headings are 4-8 words and subheads are 1-5 words.
Use keyword-rich headings to aid skimming, as well as those that use their browser's search feature.
Help Readers Scan Your Webpages Quickly
Designing and structuring your webpages with skimming in mind can improve usability.
What you can do:
Use words that your target audiences use when searching.
Catch your readers' attention in the first few words because users tend to read the first few words when they're scanning a webpage.
Front-load keywords in webpage titles, headings and links.
Use the inverted pyramid (right) to place important information at the top of your articles.
Use Bulleted Lists and Text Formatting
Users fixate longer on bulleted lists and text formatting (such as bolding and italics). These text-styling tools can garner attention because of their distinctive appearance as well as help speed up reading by way of breaking down information into discrete parts and highlighting important keywords and phrases.
What you can do:
Consider breaking up a paragraph into bulleted points.
Highlight important information in bold and italics.
Use Visuals Strategically
Photos, charts, and graphs are worth a thousand words. Users pay close attention to photos and other images that contain relevant information. Using visuals can enhance readability when they replace or reinforce long blocks of textual content. But, users ignore certain images, particularly stock photos merely included as decorative artwork.
What you can do:
Use images, diagrams, or multimedia to visually represent ideas in the content.
Videos and images should reinforce the text on your page.
Always use alternative text (alt text) with images – or long descriptions (longdesc) for complex images like charts, graphics, and maps – for website accessibility and search engine optimization.
Avoid stock photos and meaningless visuals.
---
Do NOT welcome people to your website and explain what a website is
How many times have you seen this? "I would like to personally welcome you to our department's web page. We have put together a great collection of information and links to help you learn more about us. I invite you to look around and click the links to the left." A website is a collection of information, no need to tell your readers that.
Do NOT put your mission statement on your home page
Unless this is the most important content your users search for when visiting your site, it should not be on your home page. Don't tell people what you do—show them by making your most important services and content available immediately on your site. Your users come to your site to do something—make it easy for them.
Do NOT organize your website and write content to reflect your organization
Don't require your users to figure out your internal organization to find content on your website. Present related tasks and content together on the site, regardless of who does them within your organization. If you were shopping for a car, you wouldn't expect to be sent to the website for the engine department to find out what type of engine a car has, would you? Likewise, use language and terms that your audiences use, regardless of what you call them internally.
Do NOT bury important links within text
If information is important enough on your website to require a link, do not bury it within your copy. Users are always scanning your website for useful information or links, but when links are buried within paragraphs of text, they are hard to find and are easily missed or ignored.
Avoid using "Click Here" for your link label. When users are scanning your website, they want to see links that tell them where the information they are looking for is located. If they just see a link titled "click here," they are forced to read the surrounding text to find out if that is what they are looking. For many users, they will just skip over the link looking for better information and may miss key information. In addition, many screen readers allow users to jump to links and if the title of the link is "Click Here" it provides no context for where the link goes and what it does. Links should be labeled with the most important keyword or phrase people are looking for to guide them to the information they want.
Do NOT put every piece of printed content you have on your website
Large volumes of content do not necessarily make good websites. If your visitors don't need it, do put it on your site.
Do NOT use marketing "fluff" on the web
When your readers scan your content, every word is valuable. Do not fill your pages with marketing "fluff" or needless formalities. Boastful, exaggerated language reduces the likelihood that your content will be read or believed.
Do NOT post a PDF version of a document unless absolutely necessary
Unless the format and integrity of the original document must be maintained, such as a printable form, do not use PDFs for the web. PDF and Word documents or any other printed document type are not intended for the web and pose issues with search-ability, access, and readability. Besides, if the content was written for print, chances are it's not appropriately formatted for your website.
When creating a PDF document to post on your website, ensure that it was created from an electronic document — a Word file, InDesign file, etc. — and not from a scanned document or an image. Screen readers can usually interpret text from an original document but cannot from text in images. Adobe Acrobat and Adobe Reader can do an accessibility "Quick Check" or "Full Check" on your document. Check Adobe help for your particular version of Adobe for accessibility tools.
---
The UO
When using abbreviations, use the UO, Oregon, or the university, not Univ. of Ore., U of O, or the University. More on abbreviations
Capitalization
Professor Bob Smith is capitalized, but Bob Smith, professor of sociology, isn't. Same with president and director. Department of Biology is capitalized, but "Go to the biology department" or "I got an A in biology" isn't. The University of Oregon is capitalized, but "the university" isn't. More on capitalization
Phone Numbers
With Oregon's change to 10-digit dialing, and just because it looks better, phone number style is to use hyphens only. So 541-346-5397 instead of (541) 346-5397. More on numbers
Academic Degrees
Periods in degrees are no longer used, so BA, MS, and PhD, not B.A., M.A., and Ph.D. More on academics
Serial Comma
Use it. Reading, writing, and arithmetic. More on punctuation
Word Spacing—Use only one space!
The Chicago Manual of Style (and the AP Stylebook) advises leaving a single space, not two spaces, between sentences and after colons used within a sentence.
---
Thirty-two of the most frequent user experience misconceptions by Zoltán Gócza and Zoltán Kollin from uxmyths.com