If you run into a problem, have questions about how something works, or have questions about functionality that is not covered, email webservices@uoregon.edu to ask for assistance.
---
To edit the grey footer on your page with your address, phone number, contact us, social media accounts, quick links, etc., click on "Configuration" in the menu at the top of the page.

That will take you to the Configuration page. Click on the link to "UO Banner and Footer".

On the UO Banner and Footer settings page, you can select which information you would like to edit. The information is divided into four categories:
General Settings for the quick links
Location and Map for your address
Contact Information for your phone number and contact us link
Social Media Links to add the icons and links to your social media accounts

---
While the Custom Footer Content information appears to be the same as a basic grid layout, it is formatted slightly differently because it collapses when viewed on a mobile device. To add or change items in your footer, see collapse menu in the templates section.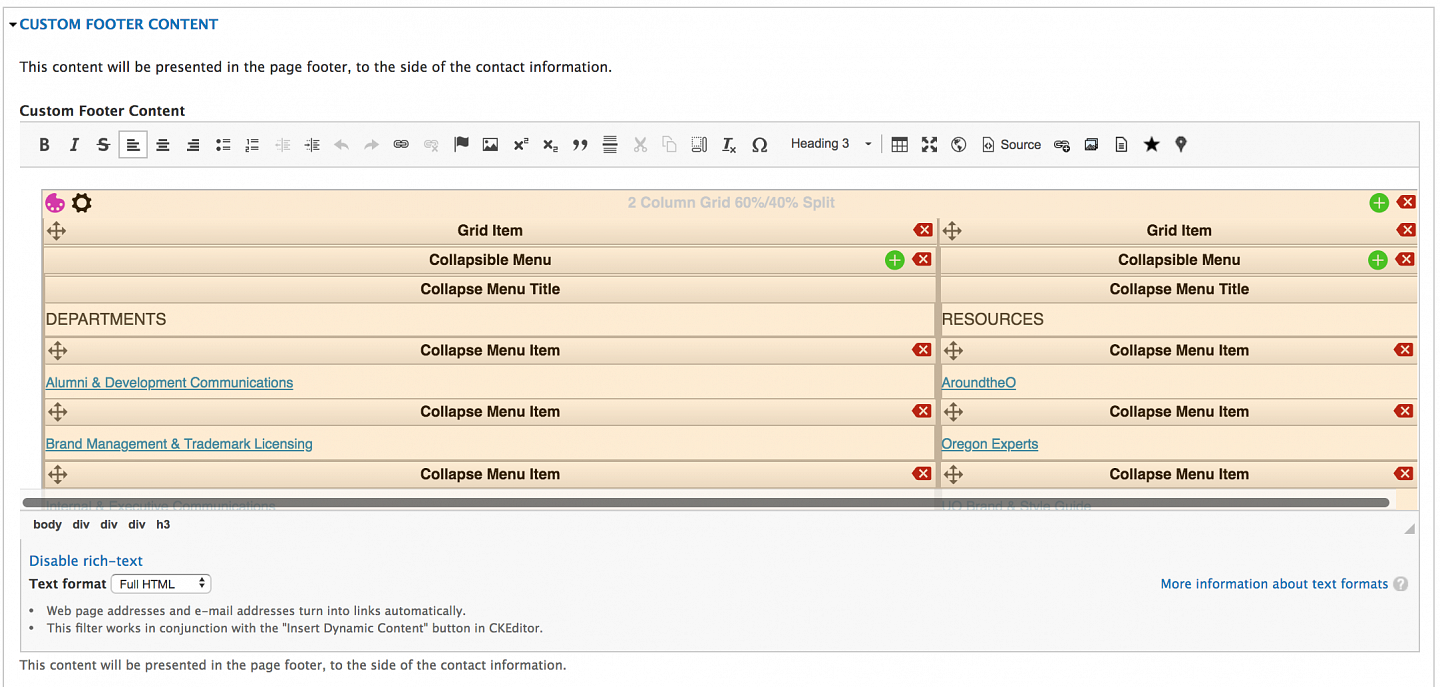 NOTE: You may have worked with an older version that has the Custom Footer Content located under the "General Settings section. If this is the case, the only thing on the General Settings section that you should change is in the "Custom Footer Content" section. Do not adjust the settings for Custom Page Width, Utility Links Menu, or Hamburger Menu Target.
---
In the Address section, you can add your mailing address and link to your building on the UO Map. A link to the UO Map will automatically be generated when you select your building name from the list. The office and Google Maps URL fields have been deprecated and will be removed in a future update.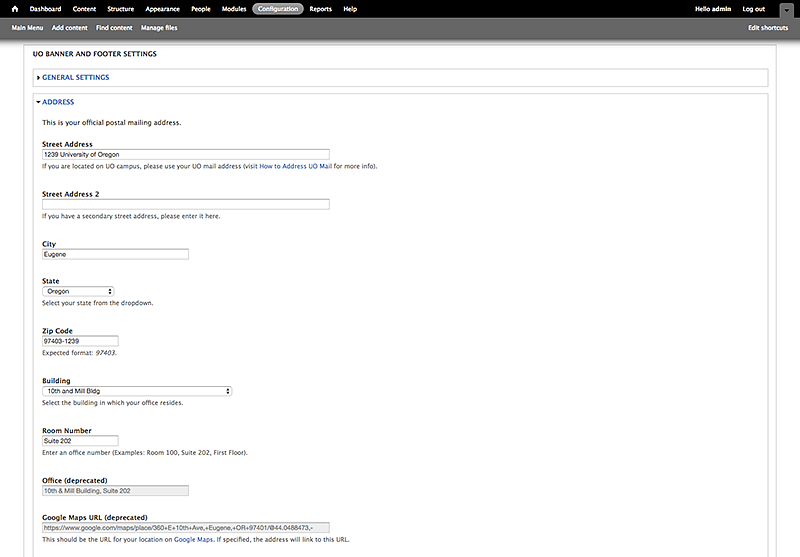 ---
In the Contact Information section, you can add your department's name (which will automatically default to the title of your website), telephone and fax numbers, email address, and a link to your contact us page. You can enter up to two telephone numbers in the footer.
The telephone number should be entered with the area code and use a hyphen to break up the numbers.
To enter the link to your contact us page, use a relative link (only the information after uoregon.edu) in the Contact Form URL box. For Communications, the Contact Us page is located at https://communications.uoregon.edu/about-us, so in the Contact Form URL box, enter /about-us.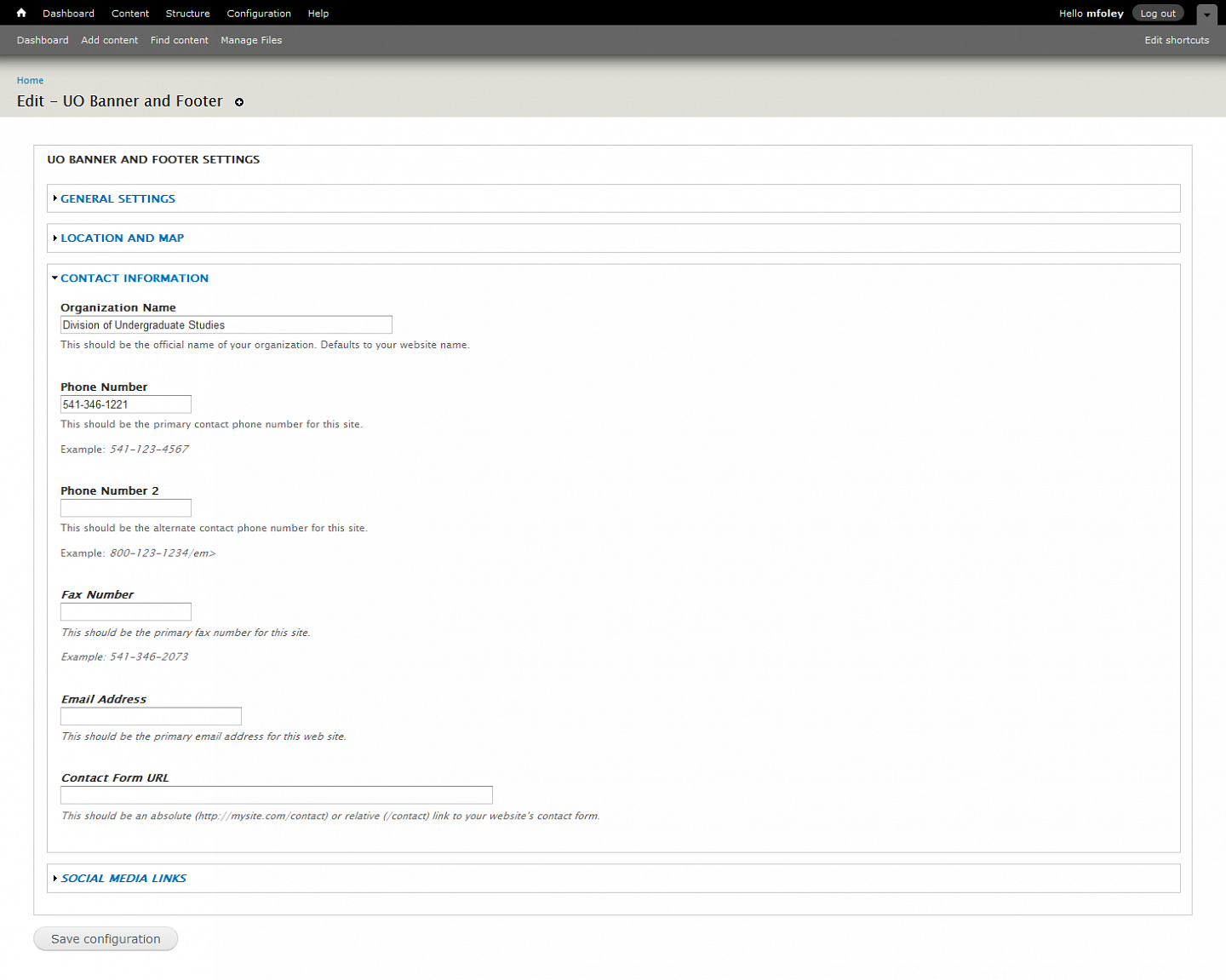 ---
In the Social Media Links section, enter the web address for the social media accounts associated with your department in the corresponding boxes. There is the ability to add one account each for Facebook, Twitter, YouTube, Instagram, LinkedIn, Pinterest, and an RSS Feed. This will automatically add the icon for that account to the footer with a link to the corresponding account.